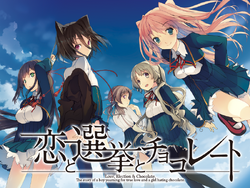 Koi to Senkyo to Chocolate
(恋と選挙とチョコレート, lit., "Love, Election and Chocolate"), also called as
Koichoco
(恋チョコ,
Koi-choko
), is a visual novel developed by Sprite released in Japan on October 29, 2010 for Microsoft Windows PCs. The game follows the format of traditional visual novels, with events branching out depending on decisions by the player, who will interact and form relationships with the five female main characters.
The game was adopted into two manga series: one each is serialized in ASCII Media Works' Dengeki G's Magazine and Dengeki Daioh. An anime adaptation of the visual novel was announced as well, produced by AIC Build and directed by Tohru Kitahara, to be released on July 2012.
Koi to Senkyo to Chocolate is a romance visual novel which puts the player in the shoes of a male student named Yuuki Oojima. The game is mostly driven by dialogue, with a limited amount of illustrations to accompany with the story narrative.
The story is divided into five main plot lines, in which the player can progress to depending on the decisions of the player. Each story focuses on a different girl, and the story expands on the relationship of the girl with Yuuki upon further progress into the game. The player might need to replay the game in order to proceed with the other plot lines, as plot lines can be affected by the player's choices in the story. In the adult version of the game, the player would also encounter scenes wherein Yuuki and a girl chosen through the game would have sex.
Koichoco follows Yuuki Oojima, a student of Takafuji Private Academy and a member of its Food Research Club. After getting used to the routine of not having much activity at the club, he and his seven fellow members, including his childhood friend Chisato Sumiyoshi, discover that they are in danger of being abolished, after a frontrunning candidate for the position of Student Council President, Satsuki Shinonome, announces her plans of taking down all of the school clubs which do not have merits.
In order to save the Food Research Club from being closed down, Yuuki asks advise from the incumbent Student Council President Yakumo Mouri, who suggests that he oppose Shinonome in the upcoming elections. After discovering the various problems facing Takafuji Private Academy, Yuuki decides to follow Mouri's advice of running on the school elections.
Characters
Edit
Main CastEdit
Supporting CharactersEdit